Posts for: June, 2014
By Donald K Nanney, DDS, PC
June 19, 2014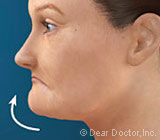 There's more to tooth loss than you might think. Because teeth are part of a larger system that facilitates speaking, eating and digestion, a lost tooth could eventually affect your overall health.
Tooth loss is actually about bone loss. As living tissue, bone continually reforms in response to stimuli it receives from the body. The alveolar bone (which surrounds and supports the teeth) receives such stimuli as the teeth chew and bite, as well as when they contact each other. All these stresses — hundreds a day — transmit through the periodontal ligament to the bone, stimulating it to grow and remodel.
A lost tooth reduces this stimulation and causes the alveolar bone to resorb (dissolve) — as much as 25% of its width the first year alone. Unless the process is stopped, the underlying basal bone and the periodontal (gum) tissue will begin to resorb too. Without this structural support the facial height shrinks and the front teeth begin to push forward, making chewing and speaking more difficult. These teeth begin performing functions outside their normal range, leading to damage and possible loss.
The primary goal of oral hygiene and dental care is to prevent tooth loss. When tooth loss does occur, however, it's then important to restore the lost tooth with an artificial replacement if at all possible — not only to regain form and function, but to also stop further bone loss.
While the fixed partial denture (FPD), also known as a fixed bridge, has been the restoration of choice for many decades, dental implants may be the better long-term option. Although more expensive initially, implants can achieve a life-like restoration without involving or altering adjacent teeth as with FPDs. Plaque retention and tartar accumulations are much less likely with an implant, and the bone-loving quality of titanium, the metal used for implants, actually encourages bone growth. As a result, implants have a much higher longevity rate than FPDs.
Taking care of your teeth through effective hygiene practices and regular checkups may help you avoid tooth loss altogether. But if it can't be avoided, restoring lost teeth is the single most important thing you can do to prevent even greater problems down the road.
If you would like more information on dental implants, please contact us or schedule an appointment for a consultation. You can also learn more about this topic by reading the Dear Doctor magazine article "The Hidden Consequences of Losing Teeth."
By Donald K Nanney, DDS, PC
June 04, 2014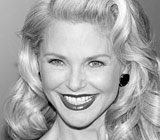 Fracturing back molars is an experience no one ever wants to have. But when a helicopter crashed during a back country ski trip, supermodel Christie Brinkley soon discovered that she had fractured two molars. Fortunately for Christie, her oral health was restored with two dental implants. As she said during an interview with Dear Doctor magazine, "I am grateful for the dental implant technology that feels and looks so natural."
While Christie's dental implants replaced back teeth, we routinely use them to replace both back and the more visible front teeth. But best of all, we have demonstrated expertise at making dental implant crowns look real. This is where we meld science and artistry.
What drives the most natural and beautiful result is how the crown (the visible, white portion of a tooth) actually emerges through the gum tissues. We also match the adjacent teeth identically in color, appearance, shape and profile. But we can't take all the credit, as it takes an entire "behind-the-scenes" team to produce dazzling results. Choice of materials, the laboratory technician (the person who actually handcrafts the tooth), the expertise we use in placing a dental implant crown and the total quality of care we provide are the ingredients necessary for success.
Another critical factor required is ensuring there is enough bone volume and gum tissue to support an implant. Both of these must also be in the right position to anchor an implant. However, if you do not have adequate bone volume, you may be a candidate for a minor surgical procedure to increase your bone volume through bone grafting or other regenerative surgical techniques.
To learn more about dental implants, continue reading the Dear Doctor magazine article "Matching Teeth & Implants." Or you can contact us today to schedule an appointment so that we can conduct a thorough examination, listen to your concerns, answer your questions and discuss treatment options. And if you want to read the entire feature article on Christie Brinkley, continue reading "The Secret Behind Christie Brinkley's Supermodel Smile."